Polestar Car Rentals at Olbia Airport
UNBEATABLE VALUE CAR RENTAL





Polestar - Olbia Airport
check_circle
6 Polestar car rental quotations searched.
Popular Polestar models to rent:
About Polestar Rental Cars at Olbia Airport
Polestar: A Beacon of Innovation and Sustainability
Swedish automaker Polestar is renowned for its commitment to producing high-performance electric cars that harmoniously blend innovation, sustainability, and aesthetics. As a brand, Polestar's ethos is deeply rooted in the principles of design purity, environmental consciousness, and avant-garde technology. This blend of values is evident in their vehicles, which are characterized by their sleek design, high torque electric powertrains, and eco-friendly features. For business and leisure travelers arriving at Olbia Airport, a Polestar vehicle is the ultimate choice for a luxurious, eco-friendly, and exhilarating driving experience.
Polestar 2: The Perfect Blend of Performance and Sustainability for the Olbia Adventurer
The Polestar 2, offered by HERTZ, is the epitome of a modern electric vehicle. Its powerful electric powertrain delivers an impressive 408 horsepower and 660 Nm of torque, ensuring a dynamic and responsive driving experience. The Polestar 2's dual motor all-wheel drive is perfectly suited for the diverse terrain around Olbia, whether you're cruising along the coastline or heading into the mountains.
This model also boasts an array of sustainable features, including vegan upholstery and recycled materials, making it an excellent choice for eco-conscious travelers. Its spacious and luxurious interior, combined with advanced infotainment system, ensures a comfortable and enjoyable journey for both business and leisure travelers. With unbeatable Olbia Airport Car Rental prices, the Polestar 2 offers a premium, sustainable, and exciting driving experience for all types of travelers.
Whether you are a business traveler in need of a reliable and luxurious vehicle, or a leisure traveler looking for an environmentally friendly car that doesn't compromise on performance, renting a Polestar vehicle at Olbia Airport is a decision you won't regret. With Polestar, you can enjoy the best of both worlds: an exceptional driving experience and a smaller carbon footprint. Let your journey in Olbia be marked by innovation, sustainability, and luxury with a Polestar rental.
Polestar Vehicle Rentals by Group Available at Olbia Airport
Which Car Rental Companies Offer Rental of Polestar Cars from Olbia Airport?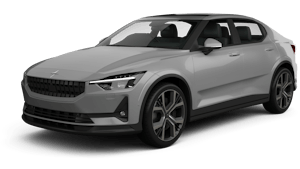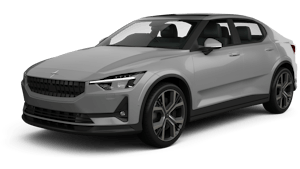 Polestar 2 Rental Vehicles - Specifications
Drive wheels
Front wheel drive
The specifications shown are for informational purposes only, we cannot guarantee the exact Polestar 2 vehicle model and specifications you will receive. For specific details you should check with the given car rental company at Olbia Airport.
Polestar Vehicle Rental at Olbia Airport - FAQ
question_answer Which car rental companies offer Polestar car rentals at Olbia Airport?
The following car rental companies at Olbia Airport offer a range of models of Polestar:
HERTZ
question_answer Which car rental company at Olbia Airport offers the cheapest Polestar car rentals?
question_answer Which automatic Polestar cars are available to rent at Olbia Airport?
The following automatic Polestar cars are available to rent at Olbia Airport:
Polestar 2
Alternative Car Brands Available to Rent at Olbia Airport
We have 137 different types of vehicles from 28 manufacturers provided by 36 car rental companies at Olbia Airport.
eco
Want to drive something eco-friendly on holiday?