Olbia Airport Departures (OLB)
Not all flights may be showing. If not available use search above to find your flight by airline, airport or flight number.
Destination
Airline
Flight no.
Scheduled
Est./Actual
Status
Rome (FCO)
Volotea
V71134
03:30
Scheduled
No flight departures were found at Olbia Airport.
Flight Departures at Olbia Airport
Olbia Airport departures can choose from 102 destinations in 29 countries and the Olbia Costa Smeralda aviation hub offer flights to Tel Aviv, Geneva and Zürich, Barcelona and Madrid, Edinburgh, Leeds and Manchester, Friedrichshafen, Düsseldorf and Munich, Naples, Milan-Malpensa, Pisa and Paris, Berlin, Frankfurt and Hamburg among many other destinations across the world.
The runway measures some 2,446 meters in length and the passenger terminal caters for all pre-flight requirements, be they last minute shopping, banking, refreshments or tourist information. A surprisingly large number of carriers operate out of this airport and departures at Olbia Costa Smeralda Airport can choose from budget airlines and regular airlines. Easyjet, Jet2.com, Helvetic Airways, Norwegian Air Shuttle, Iberia, Air Berlin and Alitalia are just some of the carriers offering routes to Sardinia's airport. Meridiana Fly has its headquarters here and Niki as well as Lufthansa Regional provide routes to destinations in Europe.
Departures at Olbia Airport can also enjoy a pre-flight drink at a wine bar in the passenger terminal, where visitors can sample a selection of wonderful Sardinian wines. There are shops for last minute gifts like toys, cosmetics or fashion and a luggage depository even allows short-term visitors to leave some of their luggage behind for a day to hop across to main land Italy for a day trip to Rome, Venice or Milan. Since trekking is particularly popular on Sardinia, it is not a bad idea to leave the heavy hiking boots behind, when departing on a flight to other Italian destinations for a day or two.
The town of Olbia is not far from the airport and passengers departing from Olbia will be charged around EUR 15.00 for a taxi journey to the airport. Located on the north-east coast of Sardinia, the pleasant and happily situated town overlooks the Mediterranean Sea and the little island of Tavolara. Sardinia's climate is always mild, even in winter, and Olbia Airport departures will probably have to pack warm clothes when travelling to Milan in the north of Italy. Even in November Sardinia's waters are still warm enough for bathing, but the best seasons to visit are undoubtedly spring and autumn.
Olbia Airport departures, staying in resorts along the Sardinian costs or on some of the small islands located just offshore, should ensure they know the connecting times for the ferry operators Saremar and Enermar, buses and trains to take them back to the airport.
The best way to get about on Sardinia is by hire car. The are many car rental companies that operate out of Olbia airport, where the rental car should be returned to on the day of departure. Not all car rental companies have out of office hours' drop off points or drop boxes for keys. Passengers with a hire car should ensure they know where and how to return their hire car prior to the flight.
Trains and buses connect from all major towns on Sardinia to the airport and ARST buses (Azienda Regionale Sarda Transporti) connect the towns and villages also. The main bus pick up and drop off points are located in town and village centers, where ARST usually has a bus station. Tickets to the airport can be purchased at the station, at tobacconists, in bars and at newspaper stands near the bus stations.
Was your flight delayed or cancelled?
You may be eligible to receive up to 600 EUR compensation per person in your party..
Claim Now!
Beat the Queues
Don't stand sweating for 45 mins waiting for Security. Get a fast track and get through in 5 mins or less.
Book now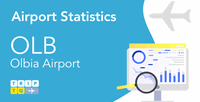 Olbia Airport in Sardinia, Italy, stands out as a prime example, witnessing an 18.34% increase in passenger traffic in September 2023 compared to the same month in 2019.