Olbia Airport Arrivals (OLB)
Not all flights may be showing. If not available use search above to find your flight by airline, airport or flight number.
Origin
Airline
Flight no.
Scheduled
Est./Actual
Status
Rome (FCO)
Flexflight
W28455
10:00
Scheduled
Rome (FCO)
Aeroitalia
XZ2604
10:00
Scheduled
Milan (LIN)
Flexflight
W28441
10:20
Scheduled
Milan (LIN)
Aeroitalia
XZ4104
10:20
Scheduled
NIce (NCE)
easyJet
U21687
11:10
Scheduled
Mulhouse basel (BSL)
easyJet
U21105
12:00
Scheduled
Cologne (CGN)
Eurowings
EW844
12:05
Scheduled
Milan (MXP)
easyJet
U23585
12:05
Scheduled
Bergamo (BGY)
easyJet
U26002
12:20
Scheduled
Geneva (GVA)
easyJet
U21419
12:50
Scheduled
No flight arrivals were found at Olbia Airport.
Flight Arrivals at Olbia Airport
Olbia Airport arriving passengers will find a large number of public transport services as well as car rental companies at the passenger terminal for their onward journey.
The airport at the Costa Smeralda in Sardinia offers passengers a wide choice of onward destinations. Budget airlines such as Air Berlin or Easyjet connect Olbia with Berlin, Lyon, London Gatwick, Paris, Geneva, Basel and Nice as well as a large number of domestic destinations across Italy.
The passenger terminal provides arrivals at Olbia Airport with restaurants and a wine bar, where they can enjoy a selection of local wines and delicious Sardinian cuisine, but there are also ATM's for cash services, free WiFi zones, a Business Center, where business meetings can be held and where business travelers will find copying, faxing and internet services.
Passengers with small children can avail themselves of the airport's Nursery and Baby Club. Any passenger who has experienced difficulties over luggage should contact Lost and Found station.
Travelers arriving at Olbia who require assistance or who are looking for tourist services will find an information stand at the arrivals area. The Airport also offers a baggage reclaim hall, toilet facilities for disabled passengers and a first aid point for emergencies.
A number of shops offer not just some of the finest quality products Sardinia has to offer, but also branded goods from toys to cosmetics, fashion and accessories to home items.
Arrivals at Olbia who want to explore the island just for a day and then perhaps take an evening flight back to the Italian mainland can leave their suitcases and other luggage items at the luggage storage place located in front of the terminal near the car park. This convenient service is guaranteed from 7.00 am to 10.00 pm daily and is available to passengers who can identify themselves with a boarding pass or plane ticket as well as a passport or ID card. The fee for a standard item of luggage is EUR 5.00 per day. Olbia Airport arrivals who have a bike as part of their luggage will even find bike boxes, where bicycles can be stored for a fee of EUR 7.00 per day.
There are numerous car rental companies operating out of Olbia airport and renting a car is the most flexible and convenient way of discovering Sardinia's many attractions and wonderful coastlines.
Olbia Airport arrivals wishing to travel by train to their final destination on the island should board bus lines number 2 or 10, which connect the airport with Olbia City. These services run every quarter of an hour. From the Train Station visitors can board a train on the "Y" shaped rail network that links some of Sardinia's main centers.
The taxis rank is just outside the terminal building close to the Arrivals area. The taxi fare from the airport to Olbia City will usually cost around EUR 15.00 for a single journey during day time hours.
Long distance coaches also operate from Olbia airport and passengers wishing to travel onward to Cagliari or Oristano for example can do so with one of the frequent coach services.
Was your flight delayed or cancelled?
You may be eligible to receive up to 600 EUR compensation per person in your party..
Claim Now!
Beat the Queues
Don't stand sweating for 45 mins waiting for Security. Get a fast track and get through in 5 mins or less.
Book now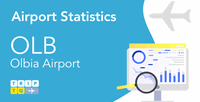 The comparison between July 2020, during the pandemic, and July 2023 shows a remarkable passenger increase, from 233,595 to 704,151...