Destinations with connections to Olbia Airport (OLB)
Flights, Arrivals & Departures at Olbia Airport
Origin
Airline
Flight no.
Scheduled
Est./Actual
Status
Rome (FCO)
Aeroitalia
XZ2611
09:55
Scheduled
Rome (FCO)
Flexflight
W28528
09:55
Scheduled
Milan (LIN)
Aeroitalia
XZ2621
10:10
Scheduled
Milan (LIN)
Flexflight
W28532
10:10
Scheduled
Rome (FCO)
Flexflight
W28501
14:50
Scheduled
Rome (FCO)
Aeroitalia
XZ2613
14:50
Scheduled
Milan (LIN)
Aeroitalia
XZ2623
16:30
Scheduled
Milan (LIN)
Flexflight
W28507
16:30
Scheduled
Milan (LIN)
VistaJet
H5632
17:11
Scheduled
Rome (FCO)
Volotea
V71135
18:20
Scheduled
Milan (MXP)
easyJet
U23553
20:40
Scheduled
Milan (LIN)
Aeroitalia
XZ2625
22:15
Scheduled
Milan (LIN)
Flexflight
W28534
22:15
Scheduled
Rome (FCO)
Flexflight
W28530
22:40
Scheduled
Rome (FCO)
Aeroitalia
XZ2615
22:40
Scheduled
| Destination | Airline | Flight no. | Scheduled | Est./Actual | Status |
| --- | --- | --- | --- | --- | --- |
| Milan (LIN) | Flexflight | W28531 | 07:00 | | Scheduled |
| Milan (LIN) | Aeroitalia | XZ2620 | 07:00 | | Scheduled |
| Rome (FCO) | Aeroitalia | XZ2610 | 07:05 | | Scheduled |
| Rome (FCO) | Flexflight | W28527 | 07:05 | | Scheduled |
| Rome (FCO) | Aeroitalia | XZ2612 | 11:15 | | Scheduled |
| Rome (FCO) | Flexflight | W28500 | 11:15 | | Scheduled |
| Milan (LIN) | Flexflight | W28506 | 13:25 | | Scheduled |
| Milan (LIN) | Aeroitalia | XZ2622 | 13:25 | | Scheduled |
| Rome (FCO) | Volotea | V71134 | 15:30 | | Scheduled |
| Milan (LIN) | Flexflight | W28533 | 19:00 | | Scheduled |
| Milan (LIN) | Aeroitalia | XZ2624 | 19:00 | | Scheduled |
| Rome (FCO) | Aeroitalia | XZ2614 | 19:35 | | Scheduled |
| Rome (FCO) | Flexflight | W28529 | 19:35 | | Scheduled |
| Milan (MXP) | easyJet | U23554 | 21:15 | | Scheduled |
Flying To and From Olbia Airport
This page provides information about the destinations that can be reached via Olbia Airport.
Was your flight delayed or cancelled?
You may be eligible to receive up to 600 EUR compensation per person in your party..
Claim Now!
Beat the Queues
Don't stand sweating for 45 mins waiting for Security. Get a fast track and get through in 5 mins or less.
Book now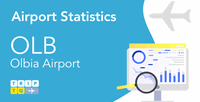 Olbia Airport in Sardinia, Italy, stands out as a prime example, witnessing an 18.34% increase in passenger traffic in September 2023 compared to the same month in 2019.